RESISTANCE CINEMA, 2010 A BANNER YEAR!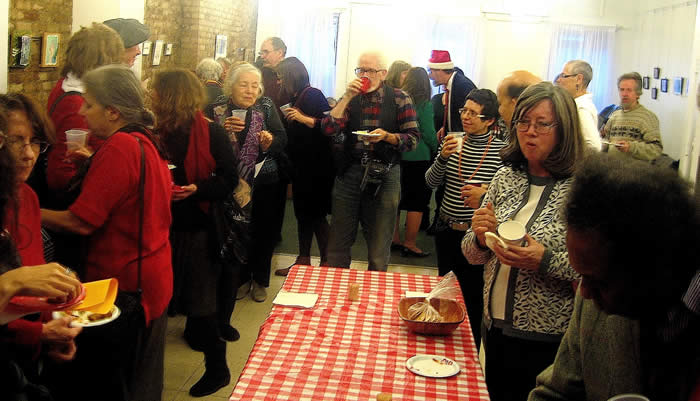 CLICK HERE FOR MORE PHOTOS FROM OUR WONDERFUL 2010 HOLIDAY PARTY
A very Happy Happy New Year to all of our RESISTANCE CINEMA supporters, those that have been with us for a while and those that have just recently discovered us. 2010 was a banner year for RESISTANCE CINEMA. It was probably our most successful year since we began in June 2003. What was so significant is that our spike in attendance was not just for a few exceptional screenings but a very stable and sustained growth of from 20 to 30 average attendance to a 30 to 40 average over the course of the year. There can be no question that the new TV was the deciding factor. In the past we've had some large turnouts for films but it was difficult getting people to come back. Now, finally people can comfortably sit in the back of the room, read subtitles, and enjoy the films. The atmosphere is so much more professional.
Of course we are proud of our programming as well. This year we had the pleasure of presenting some truly outstanding films and guest speakers on a wide variety of topics ranging from the dark and intensely serious to the inspirational to the light hearted and humorous. Our films covered issues from Monsanto and genetically modified foods, the birth of the International Criminal Court, rape in the Congo, a fundraiser for Haiti, prospects for peace in Israel/Palestine, a unique look at New York's colorful Lower East Side, and a sober remembrance of the 1921 violence against the Black community of Tulsa Oklahoma.
Three of our films covered controversial lawsuits: Indigenous Ecuadorians against oil giant Chevron, labor activists in Columbia against Coca Cola, and the U.S. military's failed case against war resister Ehren Watada. Four of our films were sympathetic personal portraits of activist Ralph Nader, academic Norman Finkelstein, famed whistleblower Daniel Ellsberg, and controversial lawyer William Kunstler. We continued our enthusiasm for Michael Moore with "Capitalism; A Love Story", had a change of pace with the wonderfully animated "Sita Sings The Blues", and on the fourth of July we broke our all time attendance record in the Gallery with Howard Zinn's inspiring "The People Speak". And of course, as is our custom, we ended the year with a laugh and a party. This year we concluded 2010 with the great comic genius Charlie Chaplin and "Modern Times".
We should mention the wonderful guest speakers that always enrich our screenings and make them such special events. Whether they are the filmmakers or directors, or experts on a topic, they usually come for very little or no compensation and inspire us with their dedication. So we have to say a great big THANK YOU, WE APPRECIATE ALL THAT YOU DO to: John Washburn, Karla Hansen, Ismael Hossein Zadeh, Mindy Gershon, Karen Hoover, Nina Paley, Ray Rogers, Nina Rosenblum, Dennis Watlington, Charles Grodin, and Sarah Kunstler.
And of course we must never forget our supporters, the audience. It's a cliché by now but "we couldn't do this without you". Our rapport with you is a very special collaboration and may it continue to bring us closer to our ideals and make us all better people.
January 2011
Russell Branca, Connie Dondore, Lawrene Groobert, Karen Hoover, Nydia Leaf, Diane Mason, and Anita Waded (in abstentia)
All Contents Copyright ©2006 Russell Branca. All Rights Reserved.