RESISTANCE CINEMA and THE MEN'S SHELTER of Community Church Present a SPECIAL TUESDAY NIGHT screening for a very special film "CAPTURED: Little Brother Is Watching Big Brother" A BLOWBACK & BENVSDAN PRODUCTION, a film by JENNER FURST, DAN LEVIN, BEN SOLOMON, Executive Producer MARC LEVIN, Directed by Ben Solomon, (2008, 84 minutes)
WHEN: TUESDAY May 11th 7pm
WHERE: Community Church NYC, gallery Room, 28 East 35th st. @ Park Ave.
ADMISSION: Free, donations appreciated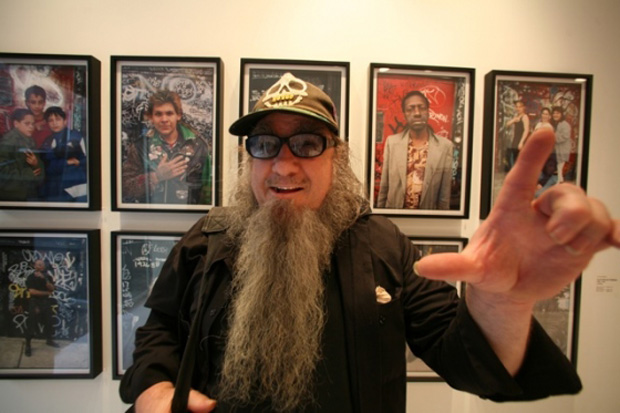 A bit off our beaten path "Captured" is one of the most vibrant and compelling films made about New York City in quite some time and perhaps the definitive film about the Lower East Side of the 1980s and 90s. It chronicles the experience of Clayton Patterson, artist, photographer and filmmaker as he "captures" the life swirling around him on camera.
Since 1979 Patterson, along with his partner for 40 years Elsa Rensaa, has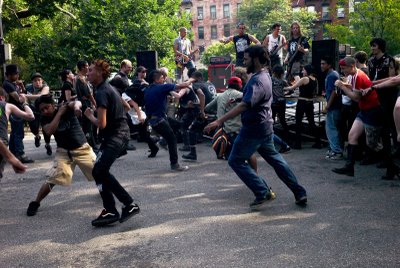 dedicated his life to documenting the final era of raw creativity and lawlessness in New York City's Lower East Side, a neighborhood famed for art, music and revolutionary minds.
Traversing the outside edge he's recorded a dark and colorful society, from drag, hardcore, heroin, homelessness, political chaos and ultimately gentrification. His odyssey from voyeur to provocateur reveals that it can take losing everything you love to find your own significance.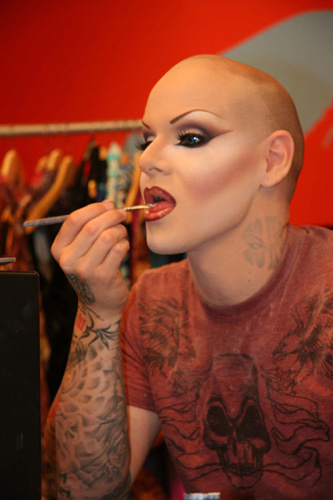 As a trusted resident of the community, Patterson was able to have access to scenes that were off limits to outsiders allowing him to penetrate the world of The Pyramid Club and CBGBs which stubbornly refused to conform to any social norms dictated by the mainstream culture. The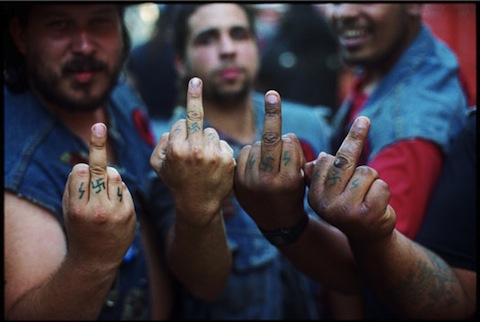 result is a truly engrossing collection of video and stills that overwhelms the senses from the pageantry of burlesque to the brutal violence of the streets.
Perhaps the apex of the film is the historic riots that took place in Tompkins Square Park on August 6, 1988. Patterson was on the scene with his video camera and captured footage of the police as they battled all through the night with residents of "Tent City" in the Park itself but which eventually evolved into a battle against the entire neighborhood. When Patterson refused, on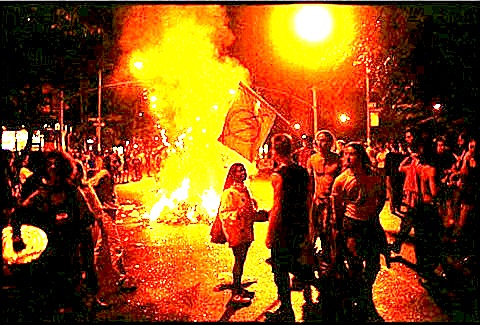 constitutional grounds, to hand over his footage to the police for fear of a whitewash of an investigation into police misconduct, his case became a cause celebre.
The amazing visuals are interspersed with commentary by Patterson, Bob Holman of the Bowery Poetry Club, colorful local figures like Jimmy Gestapo, "Jerry the peddler", or ex-cop Scott Dillin, and yes, for balance, even Mayor Ed Koch.
While the subject matter of the film is the epitome of a totally uninhibited subculture that defies all order and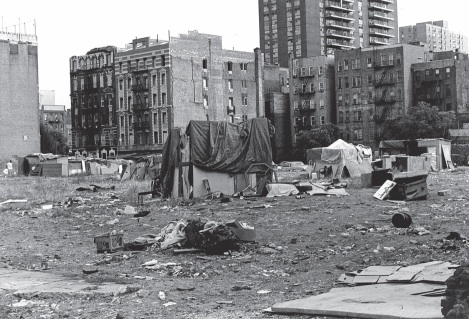 shows contempt for the hypocrisy of respectability, the film itself is anything but undisciplined. This is a very intelligent, well organized film with an architecture that was carefully thought out. Everything from the music selections to the pacing and dynamics fit wonderfully together to lift the viewer up at the beginning and gently bring him/her down at the end. It is a first rate job, an example of cinematic storytelling at its very best.
All Contents Copyright ©2006 Russell Branca. All Rights Reserved.