RESISTANCE CINEMA Presents "MODERN TIMES" a classic film Written, Produced, and Directed by Charlie Chaplin, featuring Charlie Chaplin and Paulette Goddard (1936, 86 min)
WHEN: Sunday December 19, 2010 1:15 pm
WHERE: Community Church NYC Gallery Room, 28 East 35th St. @ Park Ave.
ADMISSION: Free, donations appreciated
AFTER THE SCREENING WE INVITE YOU TO THE ANNUAL RC HOLIDAY PARTY WITH FOOD, MUSIC AND UNRESTRAINED FRIVOLITY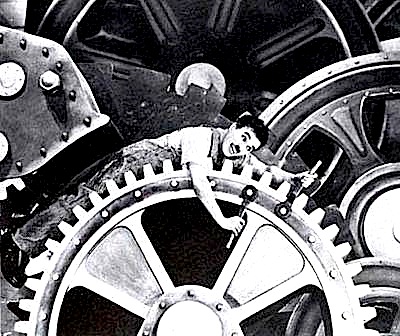 Join RESISTANCE CINEMA for our annual holiday party as we enjoy one of the great classics of American cinema: Charlie Chaplin's MODERN TIMES. Set in 1936 in the middle of the great depression, the film is a hilarious yet heart-warming spoof of dehumanization in the industrial age. It is Chaplin's last appearance as his beloved character the Little Tramp with his familiar small Derby hat, mustache, large boots,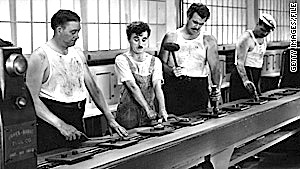 baggy pants, tight jacket and cane. Here, he is a hapless factory worker trying to survive the caprices of the modern world. In the end it is love that keeps his humanity intact and his hopes alive. The film introduces Chaplin's partner Paulette Goddard and his signature musical composition "Smile".
This social protest film is Charlie Chaplin's final stand against the synchronized sound film - and it is also his last full-length "silent film" - although it must be noted that it is a quasi-silent film. Some limited voices are heard from machines and a Big Brother character in the beginning and in one segment Chaplin sings.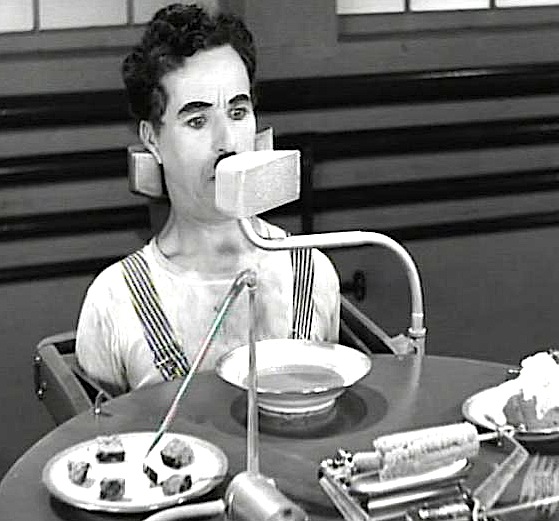 The film's main concerns (and those of the oppressed Tramp) echo those of millions of people at the time - unemployment, poverty, and hunger. It has a number of wonderfully inventive and memorable routines and scenes that proclaim the frustrating struggle by proletarian man against the dehumanizing effects of the machine in the Industrial Age (at the time of Henry Ford's assembly line), and various social institutions. The scenes of the Tramp find him alternating between scenes as an assembly-line factory worker, a shipyard worker, a department store night watchman, an overstressed singing waiter, or an occupant in jail.
After being subjected to such indignities as being force-fed by a "modern" feeding machine and an accelerating assembly line where Chaplin screws nuts at an ever-increasing rate onto pieces of machinery, he suffers a mental breakdown that causes him to run amok throwing the factory into chaos. Chaplin is sent to a hospital.
Following his recovery the now unemployed Chaplin is arrested as an instigator in a Communist demonstration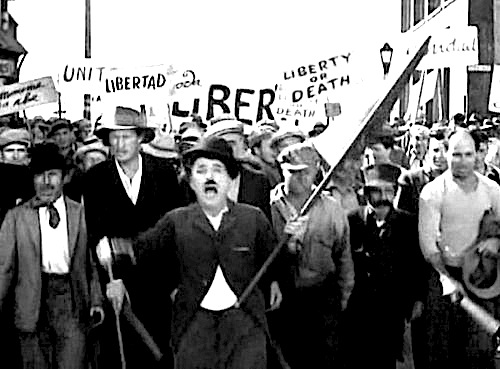 since he was waving a red flag that fell off a delivery truck (Chaplin intended to return the flag to the driver). In jail, he accidentally eats smuggled cocaine, mistaking it for salt. In his subsequent delirious state he walks into a jailbreak and knocks out the convicts. He is hailed a hero and is released.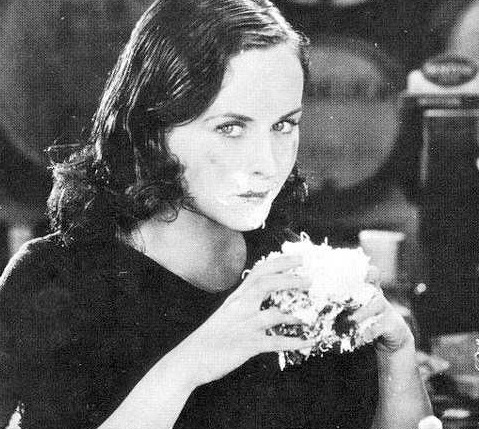 He soon runs into an orphan girl (the "gamine"), played by Paulette Goddard, who is fleeing the police after stealing a loaf of bread. Dreaming of a better life, he gets a job as a night watchman at a department store, sneaks the gamin into the store and even lets burglars have some food. Wa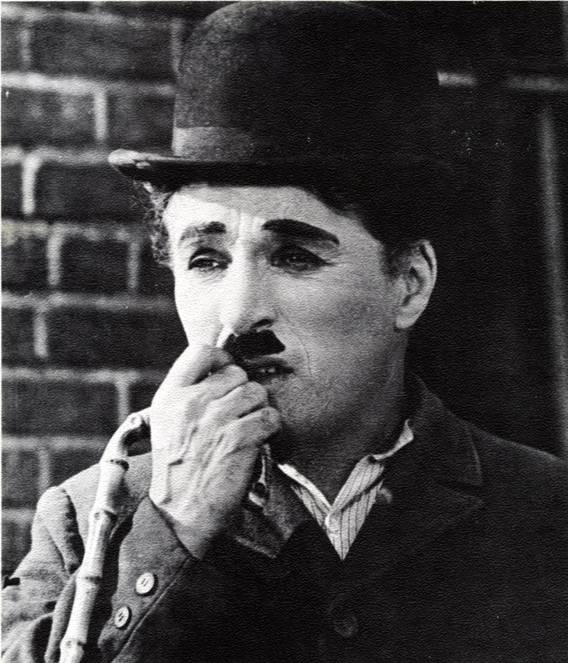 king up the next morning in a pile of clothes, he is arrested once more.
After his release he and the gamin both find work in a restaurant; she as a hostess and he as a singing waiter. When police arrive to arrest the gamin for her earlier escape, they escape again. Sitting by the road she is distraught but he comforts her to the movie's theme and Chaplin's own composition "Smile". Finally, we see them walking down a road at dawn, towards an uncertain but hopeful future.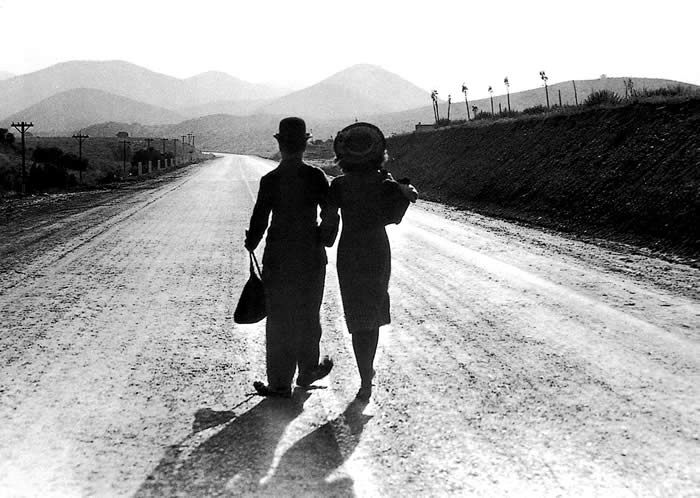 All Contents Copyright ©2006 Russell Branca. All Rights Reserved.