RESISTANCE CINEMA Presents "THE CATS OF MIRIKITANI" Winner Tribeca Film Festival Audience Award 2006, Produced by lucid dreaming inc. in association with The Independent Television Service (ITVS) and The Center for Asian American Media (CAAM) Produced and Directed by Linda Hattendorf (2006, 74 minutes)
WHEN: Sunday August 10, 2008 1:15pm
WHERE: Community Church of NYC, Gallery Room, 28 East 35th st. @ Park ave.
ADMISSION: Free, donations appreciated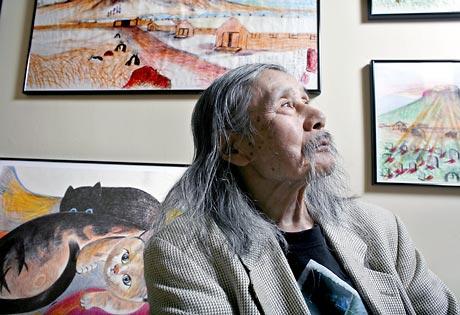 "Make art not war" is Jimmy Mirikitani's motto. This 85-year-old Japanese American artist was born in Sacramento and raised in Hiroshima, but by 2001 he is living on the streets of New York with the twin towers of the World Trade Center still ominously anchoring the horizon behind him. What begins as a simple verite portrait of one homeless man will become a rare document of daily life in New York in the months leading up to 9/11. How deeply these two stories will be intertwined cannot yet be imagined. This is the story of losing "home" on many levels.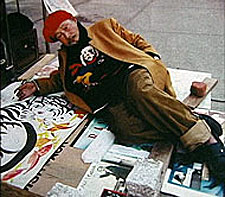 How did Mirikitani end up on the streets? The answer is in his art. As tourists and shoppers hurry past, he sits alone on a windy corner in Soho drawing whimsical cats, bleak internment camps, and the angry red flames of the atomic bomb. When a neighboring filmmaker stops to ask about Mirikitani's art, a friendship begins that will change both their lives. In sunshine, rain, and snow, she returns again and again to document his drawings, trying to decipher the stories behind them. One thing is clear from his prolific sidewalk displays: he has survived terrible traumas and is determined to make his history visible through his art.
September 11 thrusts Mirikitani once again into a world at war and challenges the filmmaker to move from witness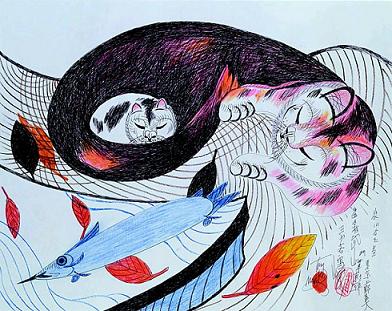 to advocate. In the chaos following the collapse of the World Trade Center, she finds herself unable to passively photograph this elderly man coughing in the toxic smoke, and invites him into her small apartment. In this uncharted landscape, the two navigate the maze of social welfare, seek out family and friends, and research Jimmy's painful past -- finding eerie parallels to events unfolding around them in the present.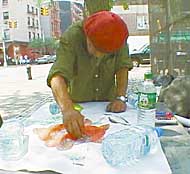 Blending beauty and humor with tragedy and loss, THE CATS OF MIRIKITANI is an intimate exploration of the lingering wounds of war and the healing power of art. A heart-warming affirmation of humanity that will appeal to all lovers of peace, art, and cats.
All Contents Copyright ©2006 Russell Branca. All Rights Reserved.