RESISTANCE CINEMA Presents "SOUTH OF THE BORDER" a film by Oliver Stone, Produced and Directed by Oliver Stone, screenplay by Tariq Ali and Mark Weisbrot (2009, 78 minutes)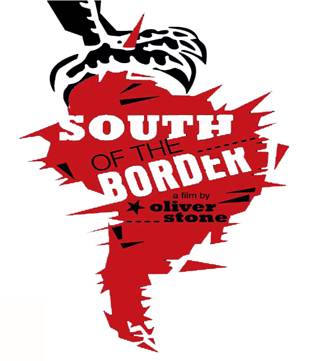 WHEN: Sunday January 23, 2011 1:15 pm
WHERE: Community Church NYC, Gallery Room 28 East 35th st. @ Park ave.
ADMISSION: Free, donations appreciated
SPECIAL OFFER FOR THOSE IN ATTENDANCE!
WE WILL HAVE A LIMITED NUMBER OF DVDs OF "SOUTH OF THE BORDER" FOR SALE AT THE SCREENING FOR THE LOW LOW PRICE OF JUST $15!!
There's a revolution underway in South America, but most of the world doesn't know it. Oliver Stone sets out on a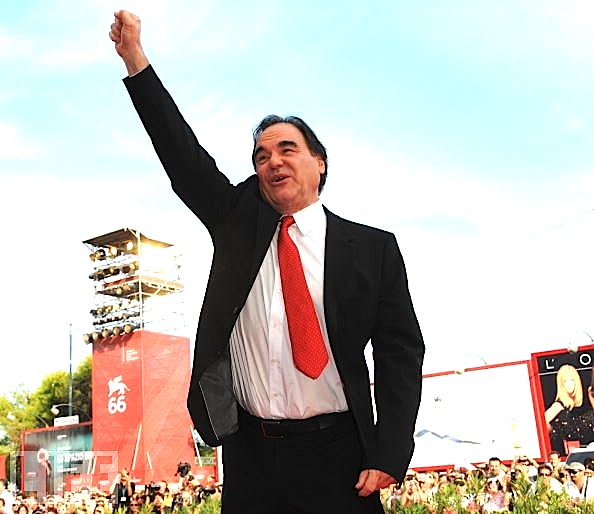 road trip across five countries to explore the social and political movements as well as the mainstream media's misperception of South America while interviewing seven of its elected presidents. In casual conversations with Presidents Hugo Chávez (Venezuela), Evo Morales (Bolivia), Lula da Silva (Brazil), Cristina Kirchner (Argentina), as well as her husband and ex-President N?stor Kirchner, Fernando Lugo (Paraguay), Rafael Correa (Ecuador), and Raúl Castro (Cuba), Stone gains unprecedented access and sheds new light upon the exciting transformations in the region.
As with much of Stone's work in the past this film has generated considerable criticism and controversy by those who feel that in his conversations he ignores their faults and does not ask difficult or challenging questions. But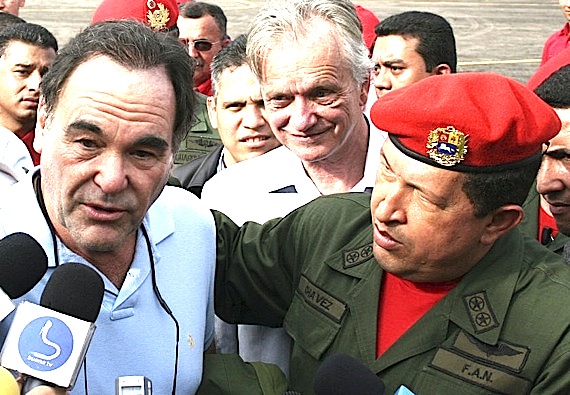 Stone makes clear from the beginning that one of the reasons for making the film was to counter the almost universal hostility in the US media towards Hugo Chavez and anyone sympathetic to him. In fact the film begins with a series of clips from the US media which promote ludicrous and absurd caricatures of evil in talking about Chavez. As Stone has said he didn't see it necessary to present the opposition's case in his film.
"A dark side? There's a dark side to everything. Why do you seek out the dark side when the guy [Chavez] is doing good things?' Stone asked. 'He is a democrat and there is opposition to him, and he's not perfect. But he is doing tremendous things for Venezuela and the region."
The film has Stone and his crew travel from the Caribbean down the spine of the Andes in an attempt to explain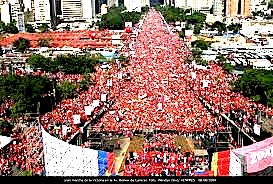 the "phenomenon" of Venezuelan president Hugo Chávez, and account for the continent's "pink tide" leftward tilt. A key feature is also Venezuela's recent Bolivarian revolution and Latin America's political progress in the 21st century.
The documentary examines the free-market economic policies pushed by the U.S. and the International Monetary Fund over the last several years, and how they have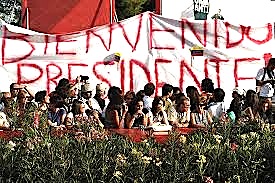 largely failed to alleviate Latin America's chronic income inequality. The film suggests that financial calamities such as the Argentine peso collapse of 2001, combined with Latin suspicions of U.S. drug-eradication efforts and resentment over the selling off of natural resources through multinational companies, also have contributed to the rise of socialist and social-democratic leaders across the region.
Tariq Ali, who along with U.S. economist Mark Weisbrot, collaborated with Stone and wrote the screenplay for the film remarked:
"These changes that are taking place are not coming about through armed struggle or guerrilla warfare or Che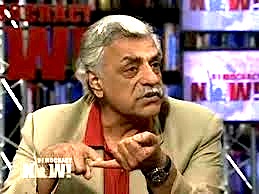 Guevara. All these changes have come about through democratic elections. And that makes it a very, very significant development in that continent."
While Stone is very upbeat and makes no attempt to conceal his enthusiasm and admiration for what is happening, he essentially sees his role as that of a conduit letting these leaders express their own vision in their own words and speak to a broader audience without the filter of an incessantly hostile US media.
Here is Stone explaining how and why he made this film.
"I was invited to Venezuela to meet President Hugo Chávez for the first time during his aborted rescue mission of Colombian hostages, held by FARC, during Christmas of 2007. As is often the case, the man I met was not the man I'd read and heard about in the U.S. media. I was able to return in January 2009 to interview President Chávez in more depth.
Was Hugo Chávez really the anti–American force we've been told he is? Once we began our journey, we found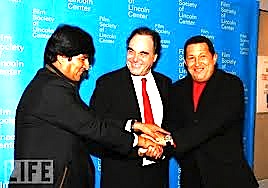 ourselves going beyond Venezuela to several other countries, and interviewing seven Presidents in the region, telling a larger and even more compelling story, which has now become South of the Border.
Leader after leader seemed to be saying the same thing. They wanted to control their own resources, strengthen regional ties, be treated as equals with the U.S., and become financially independent of the International Monetary Fund. Based on our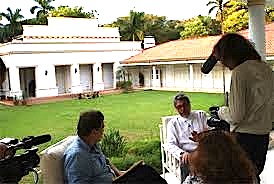 experiences in Iraq, Americans must question the role of our media in demonizing foreign leaders as our enemies. The consequences of this can be brutal. This is a continuing story. It is going on right now with Hugo Chávez in Venezuela. Hopefully, in our film, you'll get to hear a far different side of the "official" story".
All Contents Copyright ©2006 Russell Branca. All Rights Reserved.