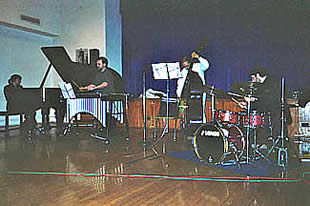 The Russell Branca Quartet
The Russell Branca Quartet has become the primary vehicle for me to present my music. There is no shortage of excellent musicians in New York City to choose from when forming a band. But so much more is involved in selecting musicians, especially when they must interpret original compositions. It is not easy to maintain stable personnel for gigs these days but I do hope Tom, Heather, and Anthony will always be available. Their musicianship is excellent, they are creative in whatever style they play in, and they swing. What more could you ask?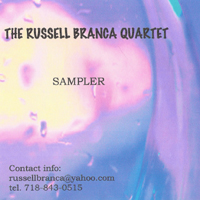 Russell Branca Quartet Sampler: Live @ Kavehaz
All compositions by Russell Branca
Total Time: 77' 16"
Click here to play the entire sampler.
Russell Branca : Bass
Tom Beckham : Vibes
Heather Bennett : Piano
Anthony Pinciotti : Drums
Recorded live to Mini-disc at Kavehaz in NYC, various dates in 2005 and 2006 except #5 recorded March 20, 2005 at Community Church of NYC.
Tom Beckham
vibes
Tom Beckham has been playing the vibes since age 14. Growing up in the D.C. area he began his love for jazz listening to local radio stations. Before heading up to the Berklee School of Music in Boston, he had already acquired experience in both classical orchestras and jazz and rock groups. At Berklee he studied with vibes great Gary Burton, Ed Saindon, and Hal Crook. In 1990, after graduating cum laude he moved to New York where he has immersed himself in the local jazz scene. An Apria Records recording artist, his latest release "Center Songs" has already began to receive critical accolades. Critical praise for Tom's playing and composing can be found in The Village Voice, The All Music Guide, Jazztimes Magazine, and The Jazz Review.
In New York he performs regularly in the local clubs with many different groups and combinations including Ron Horton, George Schuller, Muchael Musillami, J. Walter Hawkes, Donny McCaslin, and Chris Cheek among others. He has also performed and recorded as a featured soloist with the Boston Modern Orchestra Project in a series of recordings of Gunther Sculler's visionary "Concertino", "Variants for Jazz Orchestra' and "Sketches On a Theme by Thelonius Monk".
His 3rd CD as leader "Rebound" will be available in Spring 2008 on Apria Records and featues Chris Cheek, Henry Hey, Matt Clohesy, and Ferenc Nemeth.

Heather Bennett
piano
Heather Bennett, born in Buffalo, NY, raised in Needham, MA and Dallas, TX, comes from a rich musical background (her mother is an accomplished classical pianist). Heather began formally studying the piano at the age of seven. She continued her musical studies at Richland College in Dallas, then the University of North Texas and followed her mentor Bert Ligon, to the University of South Carolina where she graduated Magna Cum Laude with a major in jazz performance In 1997, Ms. Bennett moved to New York City to become part of a large community of prominent jazz musicians. She also continued her studies privately with Richie Beirach and later Sal Mosca. In 1998, she organized an all female quintet of New Yorkers with Houston bassist Erin Wright which debuted at the Sumarts Jazz Festival in Houston, recorded, then toured all over Texas.
Heather has performed with her own groups at jazz clubs in New York City and surrounding areas. She recently performed solo piano concerts in Germany for the Off New York festival: the tour was kicked off at New York's Imagine Festival, 2004. Heather has performed and/or recorded with Billy Hart, Rufus Reid, Dennis Irwin, Will Lee, Dave Pietro, Roseanna Vitro, Randy Brecker, Greg Tardy, Ed Schuller, George Schuller She even had the opportunity to play and sing for Liza Minelli. She has just released her fifth recording as a leader in 2006. "Reflections in Red," produced by Apria Records
Anthony Pinciotti
drums
Anthony Pinciotti is a dynamic, innovative drummer well versed in jazz, rock, and world music. Based in New York, Anthony performs and tours extensively with many of the most vital and foreword looking musicians on the scene today. Pinciotti has also worked with masters the likes of ; James Moody, Ira Sullivan, Kenny Werner, Randy Brecker, Mose Allison, John Patitucci, Gary Bartz, Jeremy Steig, Kenny Barron and Sheila Jordan to name a few. Anthony's passion for music became apparent when at the age of two he began playing the drums. He began playing professionally throughout the Midwest at the age of thirteen, working with many Motown and jazz greats including trumpeter, Marcus Belgrave. After being discovered in 1992 by multi-instrumentalist Ira Sullivan, Anthony relocated to Miami, Florida to be his drummer. Offered a full music scholarship by the University of Miami, Pinciotti chose instead to follow his passion for playing. His education included the opportunity to play with: Pat Metheny, Dr. Lonnie Smith, Andy Laverne, Frank Foster, and Warren Bernhard. In 1994 Anthony moved to Chicago. There he continued to hone his skills with local Chicago greats such as Von Freeman, Jodie Christian, Ari Brown, and Willie Pickens. He currently resides in Brooklyn, New York.
All Contents Copyright ©2006 Russell Branca. All Rights Reserved.