In honor of Martin Luther King Jr.'s birthday RESISTANCE CINEMA proudly presents Richard Attenborough's epic film GANDHI. Produced and directed by Richard Attenborough, Columbia Pictures, (1982, 190 min.). Starring BEN KINGSLEY and ROHINI HATTANGADY, with Sir John Gielgud, Trevor Howard, Martin Sheen, Candice Bergen.
WHEN: Sunday January 14th, 2007 at 1pm
WHERE: Community Church f NYC, Gallery Room 28 east 35th st. @Park ave.
ADMISSION: Free, (donations greatly appreciated)
Winner of eight Academy Awards in 1982 including Best Picture and Best Actor, GANDHI could very well be the greatest epic biography ever captured on film. It is the inspiring story of the "Mahatma", Mohandas K. Gandhi who led India's struggle for independence from Great Britain and developed the techniques for non-violent civil disobedience that inspired Martin Luther King and the Civil Rights Movement in the United States.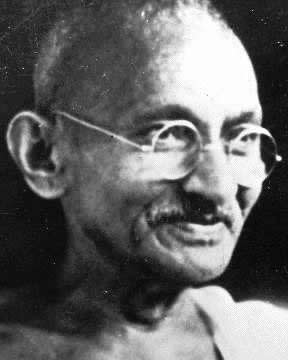 While the film continues to be overwhelmingly embraced by movie audiences, particularly in the West, it is not without its critics as Hollywood is always criticized when it forays into serious topics. In India the film was surrounded by controversy from the very beginning. As it was being filmed on location feelings were intense on all sides, from those who were quite hostile to those who gave the project their warmest blessings. Could commercial cinema truly capture the complexities of someone such as Gandhi and the movement of which he is the most celebrated protagonist? Could an English director, no matter how sympathetic to the cause of independence, render the reality of British colonialism? Could only an Indian play Gandhi?
Overcoming considerable obstacles, the film is finally completed and triumphs. Attenborough spares no expense in creating a cinematic work of stunning grandeur employing more than 400,000 extras for one dramatic funeral scene lasting just seconds. The film throughout is a constant juxtaposition between the vast, overwhelming emotions powering a mass movement that forced one of the greatest political upheavals of the century and the ti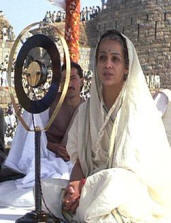 ghtly controlled spiritual discipline and simplicity of the physically frail Gandhi. Attenborough is nothing less than masterful as he draws on this contrast for more than three hours that never wear out the viewer. Matching the director's brilliance is the acting of the entire star studded cast. No doubt their American box office appeal weighed in favor of selecting Martin Sheen and Candice Bergen just as Sir John Gielgud and Trevor Howard would certainly draw the serious English theater crowd and give the film some aristocratic legitimacy. But the performances are so compelling that it really doesn't matter. As Gandhi's wife Kasturba, Rohini Hattangady is wonderful, providing a deep, earthy, feminine counterbalance to the strains of her husband's intense spiritual zeal.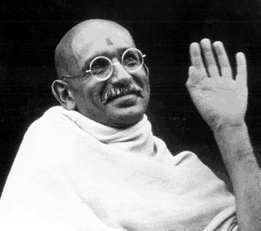 And of course there is Ben Kingsley. He is simply magnificent. From the young innocent idealistic lawyer astonished by the racisim of South Africa to the deeply frustrated but saintly wise man trying desperately to maintain Hindu-Muslim unity in a violence torrn post World War II India, Kingsley sustains an unwavering magnetic intensity through every passage in Gandhi's spiritual evolution. This was a performance of a lifetime, one to be studied by other actors. Just watching newsreel footage of the real Gandhi and watching Ben Kingsley one can't help but arrive at the conclusion that the supreme goal of all acting has been achieved. Kingsley not only physically transforms himself into his subject but he captures the elusive essence of the qualities that made Gandhi the inspiring figure that he was.
The film begins with the following inscription:
"No man's life can be encompassed in one telling. There is no way to give each year its allotted weight to include each event, each person who helped to shape a lifetime. What can be done is to be faithful in spirit to the record and try to find one's way to the heart of the man….."
It is certainly prudent advice not to make saints of people no matter how much we love and admire them. Blinding ourselves to their inevitable flaws is dangerous for them and us, while acknowledging their defects can only deepen our appreciation of their virtues. It is equally prudent to guard against a cynicism that blocks our capacity to be inspired and have heroes. Mohandas K. Gandhi was an extraordinary man who continues to inspire us today. No less than an extraordinary film will do for his biography and it is our great fortune that one has been made.
All Contents Copyright ©2006 Russell Branca. All Rights Reserved.